 Khan Salita trade verbal blows ahead of title showdown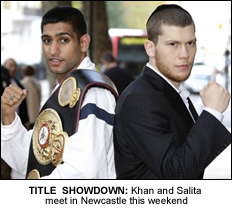 BOXERS Amir Khan and Dmitriy Salita have been trading verbal blows ahead of their title showdown in Newcastle this weekend.
Khan makes his first defence of his light-welterweight world title against the New York-based Ukrainian at the Metro Radio Arena tomorrow.
And having been taken the distance by Andreas Kotelnik when he won the belt, Khan is eyeing an early night against his opponent.
The 22-year-old says that a stoppage win will send out a powerful message to the big players in America that he is to be taken seriously.
"Now I've hit world-class level, I want to beat these people," Khan said .
"Not just beat them, I want to knock them out and I want to put a stamp there to say, 'look guys, Amir Khan is here and you better be careful what you say because I'm the world champion and I'm going to back it up by fighting and making a statement'.
"I think, when I beat this guy – an American opponent – it's going to spring me up in America. More people will get to know me in America and we'll take it from there."
Khan added: "We'll go in and sort this guy (Salita) out. I can see in his eyes he's worried. We'll get this fight over with and get together to see where we go from here."
But Salita is equally confident saying he would claim the title from 'chinny' Khan.
"Amir has my belt. I have trained very hard and I am prepared to take it. I am going to do whatever is necessary to bring it back home," he told Sky Sports News.
"He is a chinny guy, just the way he is built, there is nothing that he can do about it. He has made adjustments and obviously I watch tape and see what it is.
"I heard that Freddie said we are going to go hook for hook and that would be great, lets go hook for hook.
"It would be my lifetime achievement award to this point. I always imagined that this moment would come and I feel very confident that I will become world champion."