 Channel 4 to screen Oscar winner as part of 'India Season'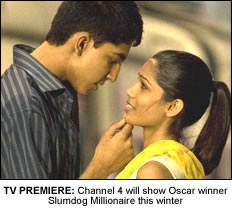 OSCAR winner Slumdog Millionaire will premiere on UK terrestrial television this winter on Channel 4, the broadcaster has announced.
Channel 4 will screen the film as part of a special season celebrating India.
The film, which won eight Oscars and seven BAFTAs, was aided in its production by Channel 4's film-making arm, Film 4.
The 'Slumdog Millionaire' theme will continue into the season with a special Dispatches programme which will reveal the brutal reality of life on the streets and in the slums of Mumbai from the vantage point of four of India's real 'slumdogs'.
The broadcasters 'India Season' will also feature a number of existing programmes which have been adapted for a single episode to incorporate the India theme.
Among these are The Slumdog Secret Millionaire, in which a British Indian female entrepreneur leaves behind her affluent lifestyle to go incognito in India, and Gordon's Great Escape which will see chef Gordon Ramsay embark on his first ever trip to India to marvel in the culinary delights of the curry-loving country.
Other highlights from the season will include 'Grand Designs' presenter Kevin McCloud exploring Mumbai's breathtaking architecture, and an all-night movie tribute to Slumdog Millionaire and Bollywood composer A.R.Rahman featuring screenings of Rang De Basanti and Jodhaa Akbar.
Also showing is Bollywood blockbuster Om Shanti Om starring Shah Rukh Khan, and featuring cameos from the biggest stars of contemporary Indian Cinema.