 'My name is Khan' set for February 2010 release
BOLLYWOOD'S 'Golden Couple' Shah Rukh Khan and Kajol will return to the big screen next February in the hugely-anticipated film 'My Name is Khan'.
Details of the release were announced by Fox Star Studios – a joint venture between Hollywood studio 20th Century Fox and Indian broadcaster Star – who will distribute the film across 40 countries in February 2010.
For Bollywood fans the return of their 'star couple', back on the big screen for the first time in eight years, could turn My Name is Khan into one of 2010's biggest Bollywood blockbusters.
The duo previously starred in five films together, including
Kuch Kuch Hota Hai and Dilwale Dulhaniya Le Jayenge, all of which were blockbuster hits that established the pair as Bollywood's hottest on-screen couple.    
The film also marks a re-teaming of director Karan Johar and Shah Rukh Khan, whose last collaboration came three years ago with
Kabhi Alvida Na Kehna. 
Over the years, Karan and Shah Rukh have enjoyed a phenomenal run at the box office, working together on a number of hit films including
Kal Ho Na Ho and Kabhi Khushi Kabhi Gham – some of the most successful Indian films at the international box office.
The film follows Rizvan Khan, played by Shah Rukh Khan, an unconventional hero who embarks on an incredible journey across America in order to win back the love of his life.
Director Karan Johar described the film as an "epic love story."
"
My Name is Khan, at its core, is an epic love story between two people who have a unique way of seeing the world, but what sets it apart is the landscape on which the story unfolds," he said.
"I keep setting out to do something different with my films, but the one constant that remains is my desire to continue to explore the many ways in which two people can fall in love and stay in love regardless of any or every challenge against them."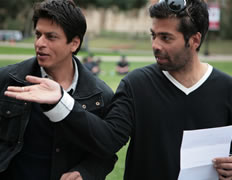 Fox Star will market and distribute the film in India, while the sister company, Fox Searchlight Pictures, which marketed and distributed the Oscar winning 'Slumdog Millionaire', will release the film in United States. Twentieth Century Fox International will distribute the film outside India.  
Vijay Singh, CEO for Fox Star Studios, said My Name is Khan was one of Bollywood's most eagerly anticipated films.
"There has been a hugely positive response from exhibitors across the world to
My Name is Khan," he said.
"The coming together of Shah Rukh, Karan and Kajol is a big event for Bollywood audiences across the world and their fan base is eagerly awaiting the release. But what makes
My Name is Khan a very special film is that it brings together the finest Indian talent with a powerful story that has relevance for audiences everywhere."