 Hit production back at Birmingham threatre where it premiered 13 years ago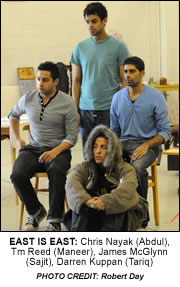 THE hit BAFTA award-winning film East is East is returning to Birmingham – 13 years after it made its premiere at the city's Repertory Theatre.
The production, which tells the story of the mixed-race Khan family in 1970s Salford, became an instant hit when it first premiered at the theatre in 1996.
Three years later the Ayub Khan-Din production was transported to the big screen where it scooped a BAFTA for Best Film.
As filming for the films sequel, titled West is West, continues in Pakistan, the much loved story will return to the Birmingham Repertory Theatre this month.
A host of fresh faces will take on the roles of the infamous family, while Iqbal Khan takes the directors chair. He described the play as a "modern classic".
"It's wonderful to see the play return to the scene of its first production. More than a decade on from its debut, the play has achieved the status of a popular modern classic.  It's very accurate to the time and very specific about the experience of a mixed-race family," he said.
"It's one of theatre's roles to ask questions, and the issues Ayub Khan-Din raises have come around again – questions of religious and cultural identity have never been as acute as they are now.  But the beauty of the play is that the portrayal of the family and the community is handled with such warmth, humour and compassion."
East Is East was Ayub Khan-Din's debut play, inspired by his own upbringing in Salford. The play won the Writers' Guild Award for Best West End Play and Best New Writer.
East Is East

Friday 25 September – Saturday 17 October
Box Office: 0121 236 4455