 25-minute drama Adha Cup is first for broadcaster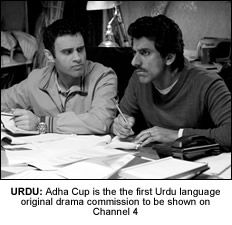 CHANNEL 4 will screen its first Urdu film next week.
The black and white comedy, called Adha Cup, is written and directed by Nottingham filmmakerSarmad Masud – a Leeds International Film Festival winner.
The film is part of Channel 4's 'Coming Up' season which offers emerging filmmakers the opportunity to make an authored drama with a guaranteed network broadcast.
Adha Cup follows Ash, played by Rez Kempton, and Shahid, played by Ace Bhatti, who are two lazy and bored social workers who reluctantly agree to reunite the cast of a legendary amateur Bollywood musical, Pappa Kehte Hain to be restaged at the Pakistan Centre where they work.
In their search for the old cast members, they encounter a singing barber, a villainous butcher and an over-acting taxi driver, and along the way they reconnect with their enthusiasm for life, love and family.

The film will air on 25 August at midnight.