 £10,000 reward as Detectives step up hunt for Shahid Mohammed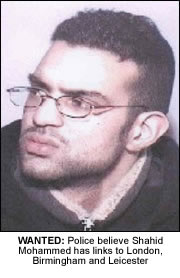 CRIMESTOPPERS is appealing to British Muslims during the holy month of Ramadan for help in catching a man wanted by police for the murder of eight members of the same family seven years ago.
Shahid Mohammed went on the run after he was released on police bail in connection with an arson attack that killed three generations of the same family in May 2002.
Muhammad Ateeq-ur-Rehman, 18, Nefessa Aziz, 35, Tayyaba Batool, 13, Rabia Batool, 10, Ateeqa Nawaz, 5, Aneesa Nawaz, aged 2 and 6-month-old Najeeba Nawaz, all died in the fire at their home in Birkby, Yorkshire.
The eighth, and eldest victim, Zaib-un-Nisa, 54 died in hospital a week later.
The crime fighting charity is hoping the month long period of Ramadan which promotes self reflection and community spirit amongst Muslims will encourage those who have information on Mohammed to contact police.
Mohammed, who will now be aged 26, is the fourth suspect in the arson attack.
Two others have already been convicted.
Mohammed was arrested during the initial phases of the murder investigation and detained by police.
He was later released on bail m as there was insufficient evidence to hold him any longer. Further evidence was later obtained by which time Mohammed had already fled.
Detectives believe he has links with London, Birmingham and Leicester.
Crimestoppers have also offered a reward of £10,000 for information leading to the arrest and conviction of Mohammed.
Dave Cording, Crimestoppers' Director of Operations, said: "We are appealing to the Muslim community who may know of the whereabouts of this dangerous individual. "Ramadan is a time of community spirit, for reflection and carrying out civic duties, it is surely a civic duty to help make communities safer by helping law enforcement track down criminals. If you have information, I can assure you that any contact with Crimestoppers, which is not part of the police, is 100 per cent anonymous and this includes payment of rewards. No names are taken, calls are not traced or recorded and you won't have to appear in court. Please tell us what you know not who you are."
The Muslim Council of Britain also urged people to pass on vital information: "The Qur'an tells Muslims to assist and support the doing of good deeds and never to support any evil deeds," a spokesperson for the organisation said.
"It is therefore the duty of every Muslim to assist the law enforcing agencies and the charity Crimestoppers by giving any information that they might have which could assist the Police with their investigations to bring criminals to justice."
Anybody with information is urged to contact Crimestoppers on 0800 555 111.