 Adil Ray accused over Kirpan remark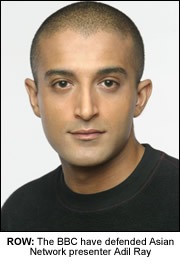 THE BBC has defended a Muslim radio presenter after he was accused of being insensitive towards the Sikh religion.
Adil Ray, presenter on the BBC Asian Network, incurred the wrath of his Sikh listeners after he made comments about the kirpan – a ceremonial dagger required by Sikhs to be worn at all times – on his show on August 6.
Discussing a story about the cancellation of a Punjabi music concert in Canada where police had banned a number of Sikhs who refused to remove their kirpan, it is the comments made directly after by Ray that have angered the stations Sikh listeners.
Although his actual comments are unclear after the BBC removed the show from its website after apparent death threats were made to the presenter, a statement released by the Corporation denied there was any malice directed towards its Sikh listeners.
"We have had a few responses from listeners who thought that he was in some way mocking the Kirpan or Sikhism, or judging the rights and wrong of wearing the Kirpan. That response has led to discussion on some message boards," a statement released by the BBC said.
"The Asian Network and Adil Ray would like to assure all our listeners that he did not mock the Kirpan or Sikhism.
"He was expressing surprise at the cancellation of the gig over the Kirpan issue, and then to link the two stories he made a remark about the British Army and whether it would be open-minded enough to let Kirpan wearers in. At no time did he make any judgement about people's faith or the rights and wrongs of wearing the Kirpan."
Butthe Network of Sikh Organisations has written to the corporation demanding a full transcript of the show.
Its spokesman, Hardeep Singh told the Independent newspaper: "We should not be paying a licence fee for promoting the ignorance-based ramblings of those bent on self-promotion who sneer at Asian religion and culture."
The row has also made it onto a number of message boards across the internet with some calling for the BBC to explain why they have removed the show from its website.