 Winners to be picked from crowd at British Asian Challenge cricket match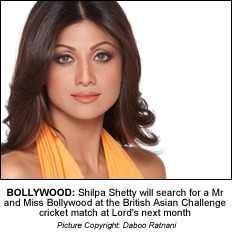 SHILPA Shetty is searching for the next Bollywood star – right here in the UK!
The Bollywood actress and part time cricket buff is hoping to pick two lucky winners out of the crowd at next months British Asian Challenge cricket match at Lords.
Last season's Indian Premier League champions the Rajasthan Royals will play UK champions Middlesex Panthers in the battle of the Twenty20 hitters in a special showpiece match on 6 July.
All proceeds raised from the game will go to the British Asian Trust, one of the Prince of Wales' charities.
It will be the first time a star-studded IPL team will travel to the UK, and former Big Brother winner Shetty has her sights set on bringing the glamour and glitz of Bollywood into traditional Lords.
She will scour the Lord's crowd for a Mr and Miss Bollywood who will be whisked off to India and given a walk-on role in Shetty's forthcoming film.
"The competition is open to all and Bollywood fans will have to dress to impress to ensure that they are in with a chance to win the opportunity of a lifetime," a spokesperson for the actress said.
"The successful pair will be flown to India and given a chance to taste the film star lifestyle. The winners will be picked only from the crowd at Lord's, so for all budding Bollywood actors and actresses it's essential to attend this exciting contest."
Tickets for the British Asian Challenge are now on sale through the M.C.C. ticket office on 020 7432 1000 and online at
www.lords.org
Related Articles