 Religious leader urges British Sikhs to give blood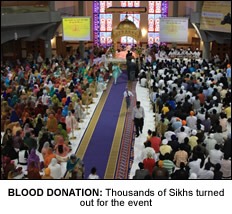 THE leader of the Sikh faith has travelled to London to join with health organisations at an event to urge members of the UK's Sikh community to donate blood.
Singh Sahib Giani Gurbachan Singhji, Jathedar of Akal Takhat Sahib arriveed in London this week to spearhead the two-day event at Sri Guru Singh Sabha in Southall – the UK's largest Sikh temple.
The head of Amritsar's Golden Temple, in India's Punjab, and of the Sikh faith, joined His Divine Holiness Sant Anoop Singhji to support efforts from the World Health Organisation, NHS and Red Cross in their calls upon the UK's Sikh community to donate blood.
Currently just 0.9% of blood-donors in the UK are of Asian Indian origin, with only 12,486 Asian Indian blood donors on the UK National Blood Donation Register out of 1.432 million donors in total.
The NHS wants to raise the percentage of Asian Indian blood donors from 0.9% to 2.1% to meet representation and service the needs of the UK hospital population of patients from BME backgrounds
But many Asian Indians across all religions are reluctant to donate blood due to misconception and misguided fears of offending cultural sensibilities and that donating blood leads to weakness – ideas the event aimed to change.
Rather than being a blood donation session, the event encouraged members of the UK's Sikh community to enrol onto the UK National Blood Donation Register.
Reuben Singh, key organising committee member, said: "The turn out to the event was extremely exceptional and Head of the Golden Temple was overwhelmed with the support.
"His Divine Holiness Sant Anoop Singh Ji's Blood Donation Mission has now started in the UK. He wanted to do something with the British Sikhs that would benefit our homeland, Britain, directly. We are British and this is a cause for our people of all races & religions living here in Britain.
"This event demonstrates total racial integration as when you are called to give blood you are doing it without the knowledge of whose life you are helping to save. No race, colour, or religion will matter when it comes to giving blood."