 Sri Lanka prepare for return post-Lahore terror attack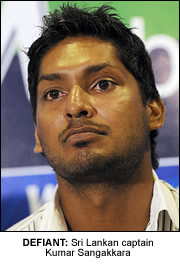 SRI Lankan captain Kumar Sangakkara said his team were looking forward to getting back onto the cricket pitch just months after they were targeted in a terrorist attack in the Pakistan city of Lahore.
Sangakkara was one of seven players who were injured when they were ambushed by terrorists as they made their way to the Gadaffi Stadium on the third day of the second Test against Pakistan in March.
Since the attack the team has not played together – until now when they will take part in the ICC World Twenty20.
Sangakkara said his teammates were now mentally prepared to return to the game.
"Returning to cricket is the sign of normalcy for us, getting back to our normal lives," Sangakkara told Cricinfo.
"The guys have moved on very well from Lahore. It is great to be back playing cricket and hope we can make a challenge in the World Twenty20. The side is really looking forward to doing well.
"Life moves on, cricket goes on. The guys have realised that and they are prepared mentally now."