 History-making Indian duo raise the golfing stakes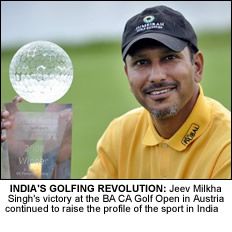 WHEN India's Jeev Milkha Singh walked off with the BA CA Golf Open in Austria this month he struck another significant victory for golf in the world's second most populated country.
His victory, his third on the European Tour, continued to raise the profile of the sport in India, which has just seen its first two home grown graduates complete the PGA Foundation Degree.
Aamby Valley's Mandaar Saddi and Tarandeep Rekhi created history in being not only their country's first PGA-trained professionals but the first from the entire continent of Asia.
It is a momentous step not only in their personal development, but for the sub-continent where golf is undergoing a rapid expansion.
And both expressed how the likes of Arjun Atwal, Shiv Kapur and Singh in particular, have played a part in their own career paths.
"Jeev is a great friend of ours as he's from the same city," said 30-year-old Saddi.
"He's much more senior than me but he's helped me in growing my game. Thanks to Jeev and also Arjun Atwal, all these other guys are coming through the ranks and hopefully we'll be able to teach them."
That is a view echoed by his fellow graduate, who also has the added distinction of being the first female.
"All these guys, Jeev, Arjun, Shiv are creating awareness of the game, especially when Jeev won in China," said the 25-year-old.
"The game has really picked up. There was a time where cricket was the religion in India but now I see lot of businesses switching to golf as they want to have clinics and golf days, so these guys have done wonders.
"There was a time when India was losing and that's when Jeev seemed to kick on and that's how golf took off."
For both of them, who were introduced to the game via their parents' link with the army, their careers are already taking off back at the course on the outskirts of Mumbai.
Initially aided by Gary Silcott, who was the chief executive of golf operations and now director of golf at The Belfry, they have found further backing from head professional Stuart J Campbell.
The pair are brimming with enthusiasm for the game and after finally capturing the cherished parchment are determined to put their skills to good use for the second wave of Indian professionals.
"It's a great achievement and another learning curve for others who follow us and we hope they will join us," said Saadi.
"India is getting to the level where we can actually start teaching these guys how it should be done and hopefully we will be having our assistants coming here."
As for Rekhi, who has been elevated to operations manager, she may well play the tour scene first having been advised to by Campbell.
"I played the amateur circuit but I always felt my skills were more towards the management side and that's how I shifted," she explained.
"However my head professional wants me to play the circuit for at least two or three years because he believes more in me that I can really do it."
But Rekhi is also insistent that both she and her colleague make the most of importing their skills back in their homeland, where she plays down the fact that she's the first woman to achieve this award.
"I'm proud to be the only girl in India with this qualification but I wouldn't want to say I'm the only girl, I'd prefer I'm one of the two Indians in the country," she added.
"Our ambition now is to take the game forward because we know the game is growing in India but we don't have many qualified people, whether that's in the field of training, management or coaching.
"We're taking our knowledge back home and trying to push the game. It is expensive as of now in India but we are trying to push people to take up the programme because that's how it's going to grow. It's not just about playing the game it's about helping as well."