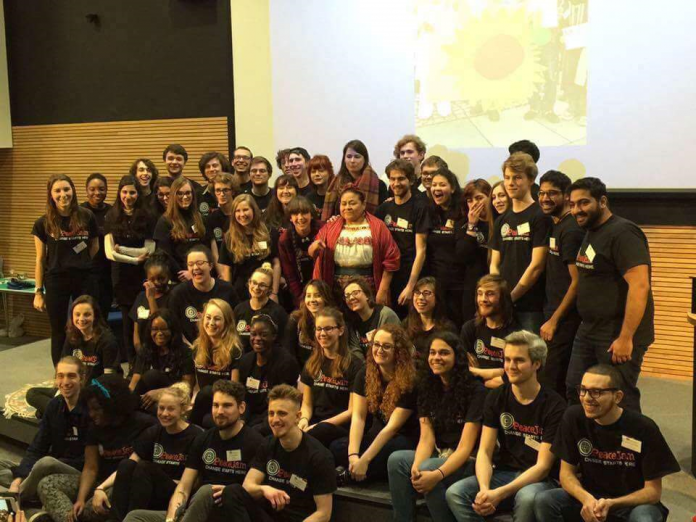 A pioneering conference exploring human rights for indigenous peoples welcomed a special guest, Nobel Peace Laureate Rigoberta Menchú Tum from Guatemala, this weekend.
The two-day conference held at The University of Winchester, and organised by PeaceJam UK, welcomed around 250 delegates including secondary school students from all over the UK.
Following the recent murder of activist Berta Cáceres, students showed their support for indigenous peoples by holding up placards and banners which they had written in Spanish to greet Rigoberta.
As a gesture of solidarity, the message 'Justicia paraBerta Cáceres' meaning 'Justice for Berta Cáceres' was displayed on the placards.
Berta Cáceres, winner of the Goldman Environmental Prize in 2015, was instrumental in leading a movement to stop a hydro-electric dam being built without consulting the indigenous Lenca population in Hondurasbefore her assassination.
Throughout the weekend, the PeaceJam conference discussed Nobel Peace Prize winners and various themes including identity, difference, power, privilege, peace and non-violence in an increasingly complicated world.
Students were also given the opportunity to present theirlocal community projects to an audience, as part of the One Billion Acts of Peace movement – a fundamental element of the academic PeaceJam programme.
In 1992, Rigoberta Menchú Tum was awarded the Nobel Peace Prize in recognition of efforts to improve the rights of the Mayan of Guatemala and native people everywhere. She was the first indigenous person to receive the award.
On receiving the award, Rigoberta stated, "We are not myths of the past, ruins in the jungle, or zoos. We are people and we want to be respected, not to be victims of intolerance and racism." 
Rigoberta continues to actively campaign for justice and peace for her people. 
This is the second PeaceJam UK conference to take place at The University of Winchester, an educational peace programme dedicated to engaging young people on social justice issues, with the involvement of several Nobel Peace Laureates.
Caroline Millman, Chair of PeaceJam UK, said "The conference is a fantastic opportunity to connect students with some of the most inspirational people around the world who have worked to bring about real positive change.
"By sharing stories of strife, sacrifice and ingenuity we aim to motivate our youth to engage with their local communities with innovative and original projects."