 Bolton Ace dreams of Hollywood as he gears up for World Title showdown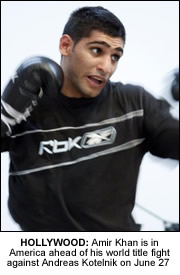 AMIR Khan loves Tinseltown so much that he says he may move there permanently after his boxing career has ended – to become an actor.
Khan is spending his third stint at Freddie Roach's Wild Card gym in LA, preparing for a WBA light-welterweight title fight against Andreas Kotelnik on June 27 at London's O2 Arena.
And he admits that even though he's training harder than ever, there's no escaping the allure of Hollywood.
That's because Roach is good pals with Mickey Rourke after training him for years, and film stars are familiar faces at the Wild Card.
Actor and singer Donnie Wahlberg watched Manny Pacquiao's preparations for his explosive KO victory over Ricky Hatton.
"I'm here to box and I've never been so focussed in my life, but Hollywood is the centre of the film world and you can't help but get drawn in," said 22-year-old Khan.
"Every time I go out running I see that big Hollywood sign up in the hills and think 'I fancy some of that when I'm done with boxing'.
"I've always wanted to be an actor later on in life, and being here in Hollywood has given me even more motivation to go and do it.
"After I'm done with boxing, I'm going to treat myself to some acting lessons to help my dream become a reality. I want to become a world champion and an Oscar winner.
"There's some great acting coaches here in Hollywood and I'm sure it wouldn't take long before I land a few movie roles."
However Khan says any acting ambitions will have to play second fiddle to boxing.
"I'm fighting for a world title against Kotelnik, but that's just the start of my journey, not the end," he said.
"I want to win world titles at three different weights and become one of the best P4P boxers in the world, and I can't cut any corners to get there."