 Kamal heads to Mount Everest for Orphan kids of Palestine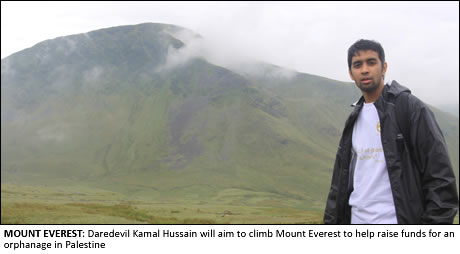 DAREDEVIL Kamal Hussain is aiming for the top of the world – to raise money for Palestines orphaned children.
The 27-year-old civil servant from London will hope to climb Mount Everest and raise a phenomenal £25,000 towards the rebuilding of Darul Fadilah – an orphanage in Rafah, Gaza which was bombed in 2009.
The climb is part of a 'Peaks for Palestine' initiative which will see climbers tackle Everest in a massive fundraising event for the orphanage.
Now Kamal wants our help to try and reach his fundraising goal that will lead him to the very top of Everest.
Already an experienced climber Kamal has been at the heart of fundraising for the Darul Fadilah orphanage since going to an Islamic Help fundraising dinner in 2008.
"The speakers that evening were so rousing, so moving, I has to blink back tears at times when I heard the accounts of the suffering of the Palestinians," Kamal told The Asian Today.
"When they made an appeal for donations I felt I had to do something. My friends and I ended up volunteering to raise £10,000 for the cause. Since making that pledge we've organised a number of fundraising initiatives, including a bungee jump, a mountain trek and a family fair," he added.
For Kamal fundraising for the Darul Fadilah orphanage means more than just personal gratification.
"The beauty of the Darul Fadilah project is that it has a specific objective and this will bring widespread benefit to many," he says.
"When it's completed Darul Fadilah can accommodate up to 500 orphans; that's a lot of orphans, masha-Allah. Muslims believe there is huge reward in taking care of one orphan – imagine helping to look after 500!
"It will incorporate a masjid where 2,000 people can offer their prayers, which will give them peace of mind and boost their mental and spiritual well being.
"It will also be a school to the orphans and the local children, so donors will be supporting their education.

"Once rebuilt, insha-Allah, it will be a huge, tangible symbol of hope – it will show the Palestinians that people halfway across the world really care, and that they want to help rebuild not just the infrastructure of Gaza but the lives of the people within. There's so much more I could say but not enough time to say it – just remember that with one donation you will be helping to rebuild the lives of thousands of people."