 Asian music producer on lookout for new talent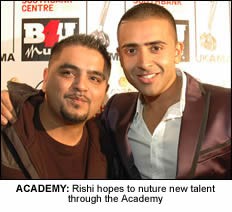 AWARD-winning Asian music producer Rishi Rich is launching his own Academy in a bid to find the industry's next British Asian music star.
The music mogul, who has worked with international stars including Britney Spears, will hold classes at the famous Pineapple Studios in Covent Garden starting next month.  
Aspiring artists will learn all aspects of the music industry from production and signing to performing and dancing.
Current British Asian stars including H-Dhami, Nihal, Ameet Chana, Juggy D and Veronica will also be on hand to offer support and guidance.
"Personally speaking this academy was set up to feed my passion, the passion to make superstars," Rishi said. "Not only that but the aim of the academy is to help us find the star in you and seed now talent."
Female music star Veronica who formed part of the successful Rishi Rich Project alongside Jay Sean, added the Academy would "raise the standards" of the current music industry.