 Shaf Rasul drafted in for online version of Dragons Den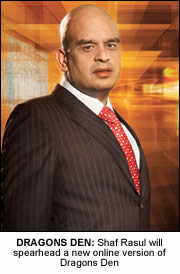 A SCOTTISH businessman will offer budding entrepreneur's the chance to secure up to £50,000 of investment in a new online version of the hit BBC programme Dragons Den.
Shaf Rasul will join fellow business head Julie Meyer for the new show which will launch online at the end of the month.
Edinburgh-based Shaf Rasul, 38, established optical-media distribution company, E-Net Computers Limited, in 2000 and it is now the largest storage media distributor in Europe and one of the biggest buyers of optical storage products in the world.
As well as expandingE-Net Computers, Shaf has developed a venture capital investment portfolio, worth in the region of £30million, which focuses on property, asset management and internet technology.
"I have always taken an innovative approach to my business interests and it is extremely exciting to be invited to join the BBC in launching this successful show to an online audience," Shaf said.
"I am a firm believer that it is people who make a success of their business and I look forward to identifying opportunities to provide the funding and operational support to take a business to the next level."
Budding entrepreneurs with top-notch business ideas can apply online where the most innovative and entertaining ideas will be selected by the BBC to be pitched to the online Dragons.
These encounters, capturing all the drama and tension that are the hallmark of the BBC Two show, will be available exclusively online as of Monday March 30th and will be updated weekly.