 Danny and Dev in talks over appearance on 'Who Wants to be a Millionaire?'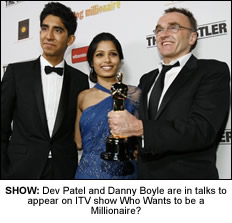 OSCAR-winning film director Danny Boyle is hoping to raise charity cash for "slumdog children" in India – by appearing on the real version of Who Wants to be a Millionaire?
Danny, who won eight Oscars and seven Baftas for Slumdog Millionaire, is in talks to appear on the famous ITV gameshow alongside filmstar Dev Patel.
The idea stemmed from Railway Children, a charity based in Sandbach, Cheshire, which protects and cares for real-life street children, just like the movie's main characters Jamal and Latika.
In the film, Jamal, played by Dev Patel, becomes a contestant on the Indian version of Who Wants to be a Millionaire?
But now Dev and Danny will be aiming to win a real-life £1million jackpot for charity to bring about early intervention for street children and help restore their lives.
Terina Keene, chief executive of Railway Children, revealed that Slumdog's success has helped to boost awareness of the charity and its work in India where there are around 12 million children living on the streets.
And she explained that Danny and Dev were in talks to appear on a celebrity version of the quiz hosted by Chris Tarrant.
She said: "We have been told that Danny and Dev are keen to keep on giving back to the street kids. This is marvellous news for our charity because we work with children like this on a daily basis.
"We have been in talks with Who Wants to be a Millionaire? and it will be a dream come true if we can make this a reality.
"Filming depends on when both are available, but we are hoping for this to happen within the next few months. To have Danny and Dev sitting in the Millionaire hot-seat for Railway Children would be brilliant."
Founder of Railway Children, David Maidment, has praised Danny Boyle for his film's realistic account of hardship and poverty on the streets of India.
He said: "The success of the film has undoubtedly helped to highlight the shocking and atrocious conditions suffered by street children in India. We just pray that the public will come forward with fundraising ideas, solutions and donations to help these kids."
David established Railway Children more than 13 years ago after a visit to India that he will never forget.
On business travel in Bombay he became lost and stumbled upon a small filthy girl of about six years of age asking him for money at a railway terminus.
As he had no loose change, he waved her away, when – to his horror and confusion – she produced a whip from behind her back and began to lash her bare body. She again asked for money and now very shaken and upset, he ran away and stopped in a shop doorway to pull himself together.
David said: "I went back – I have no idea what I thought I was going to do – but the girl had disappeared into the morning rush hour crowds.
"As I continued on my way I rationalised what I had seen. The girl, of course, was being abused and exploited by an adult who had instructed her to behave in this way to provoke sympathy and maximise takings.
"If I had given generously, I would merely have demonstrated the effectiveness of the ploy. The girl would have kept nothing but would have been forced to hand over her earnings to the adult "running" her."
But the girl's large mournful brown eyes haunted David for weeks until his anger at the injustice drove him to action. He realised the need for outreach on the railway stations as many street children congregate there and he persuaded a number of colleagues in the railway industry to join him in founding a charity called "Railway Children".
The charity was launched "under the clock" on Waterloo station concourse by Bob Horton, Chairman of Railtrack and Tony Roche, Deputy Chairman of British Rail, on 31st May 1995.
Since that time, Railway Children has grown rapidly, with many projects across India and also worldwide, thanks to the generosity of the rail industry and many other kind individuals.
The organisation is currently supporting more than 15,000 children across the world – including India, UK, Kenya and Tanzania.