 Pakistan film producers turn to UK for talent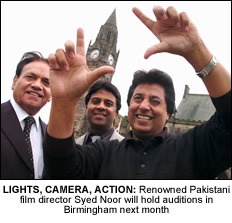 A WHO'S who of the Pakistani film industry will be flying into Birmingham next month in search for the next 'Lollywood' superstar.
Renowned Pakistani director Syed Noor and producer Aslam Jalal will travel from the heart of the Pakistani film industry in Lahore to Birmingham's Stoney Lane to hold auditions for the forthcoming film 'Maujan E Maujan'.
The film, which has the financial backing of UK-based KS Productions, will tell the story of a British Asian man who travels to Pakistan to be married despite having an English girlfriend in the UK.
The big-budget film aims to emphasise "the difference between cultural understanding and the principles of love", the production company said.
Producers are keen to get British Asian talent on board for the film and will travel across the country, stopping on 1 March at Birmingham's popular Royal Al Faisal Restaurant to hold auditions.
A professional panel of judges will be on hand to judge the acting skills of those aiming to make a name for themselves in the Pakistani film industry.
Producers are looking for male and female actors between 21 to 28 years, while a number of supporting roles will be on hand for actors between 40 to 50 years old.
If successful, they would see themselves acting alongside renowned Pakistani actors Shaan, Saima and Mustafa Qureshi.
Mr M Sarwar, Marketing Manager said: "It is expected that the participants have combination of professional conduct, confidence, talent, realistic judgment of your abilities, and love of the film and stage."
Participants will need to register their details on the production company's website ahead of the auditions in Bradford, Manchester, Birmingham and London.