 'We need to seize the opportunity', says singer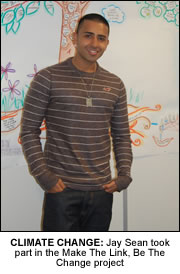 ONE of Britain's hottest Asian music stars has taken up the challenge to encourage students to think more deeply about climate change and how it affects their peers around the world.
Mobo Award nominee Jay Sean joined fellow artists Ndubz and MTV news presenters Rickie and Laura in lending a hand to the Make The Link, Be The Change project.
The stars all agreed to be filmed answering questions submitted from students on climate change at a special event at World Museum Liverpool.
"It's down to us and definitely down to people like myself to [seize the] opportunity to reach out to the kids and set a bit of an example," Jay said.  
 "My parents live near Heathrow and they have an airplane going over their roof every two minutes,
we've had to sort the tiles out a few times as they keep falling down because of the vibrations."
Plan UK launched the project as a development education project linking young people aged 11-13 from over 80 schools and youth groups.
Fifty of those schools taking part are based in the UK, whilst thirty five are international and include schools from the Philippines, Indonesia, Bangladesh, Ecuador, El Salvador, Haiti, Brazil, Sierra Leone, Kenya, Malawi and Senegal.
Through the link, students are encouraged to explore the impacts of climate change.
A spokesperson for Plan said more than 175 million children are affected by climate change-linked natural disasters every year.
"By facilitating communication between children in these communities and those from UK, we hope to foster a greater level of understanding and an awareness of the need for global action on these issues," the spokesperson added.