 Bollywood Film Reviews with Manish Gajjar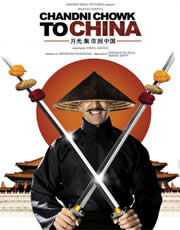 Directed by: Nikhil Advani

Cast: Akshay Kumar, Mithun Chakraborty, Attaul Awal Hamid, Deepika Padukone
Sidhu (Akshay Kumar) lives a deprived existence cutting vegetables at a roadside food stall in Delhi's Chandni Chowk. Always dreaming for a better future, Sidhu resorts to the likes of astrologers and tarot card readers for a better living.
His moment comes when two Chinese strangers claim him as a reincarnation of a past war hero and take him to China. And so begins Sidhu's dream of wine, women, and a princely existence in a foreign land.
But thanks to the devious translator Chopstick (Ranvir Shorey), little does he know that he is being taken to the promised land to rid the Chinese village of a vicious smuggler Hojo (Gordon Liu)!
On the way to China he comes across Sakhi (Deepika Padukone), who is returning home to pay respect to the land of her birth and her dead father and twin.
Through a series of lucky coincidences Sidhu manages to escape Hojo's men. Eventually Hojo catches up with him and Sidhu is exposed as the country greatest buffoon. But a revengeful Sidhu finds the one man who can train him as a kung fu expert and manages to set the village free.
Chandni Chowk To China is directed by Nikhil Advani who made Salaam-e-Ishq: A Tribute To Love (2007) and Kal Ho Naa Ho (2003).
The film is said to have been inspired by Akshay Kumar's own life story, in which martial arts plays a major part. Akshay had to undergo full training in Wushu – a form of martial art – for this movie.
Veteran actor, Mithun Chakraborty who was last seen in Guru (2007) will play also an important role in this action comedy.
The movie is produced by Ramesh Sippy Entertainment and Orion Pictures.