 Study highlights failure to tackle cultural issues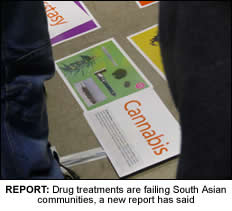 FEAR of stigma and a lack of drugs education awareness are hampering Asian drug users in Manchester from getting help, a new report has found.
The Manchester Drugs and Race Unit (MDRU) commissioned the report which highlighted the reasons why Asian drug users in the city fail to be treated.
Findings were based on consultations with staff from drug and alcohol services, frontline community organisations and information gathering workshops with service users within South Asian populated areas of Cheetham Hill and Longsight.
Despite an increase in the number of drug users, the number of Asian people accessing drug treatment is low even though there are a number of drugs services existing in and around the Cheetham and Longsight area, the report said.
The report added users feared accessing drugs services for fear of being "stigmatised and bringing shame on their family."
Shahid Ramzan, author of the report said Asian families were guilty of "turning a blind eye" to the problem.
"When there is a demand for drugs there is always a supply of drugs and some families indirectly support this," he said.
"Families are turning a blind eye to what their children get up to, because they see money coming in. Families don't acknowledge or don't know what to do through lack of awareness of the effects of supplying drugs. Parents need to be asked 'What if it was your son being supplied to– wouldn't you acknowledge it then?' "
He added it was important drug treatment services delivered awareness sessions in a "culturally sensitive manner".
The Manchester Drugs and Race Unit have already begun such sessions through The Reaching Out Programme.
The organisation has recruited and trained community organisations as part of a publicity campaign to deliver sessions tailored to address older people, younger people, parents, families, women and children.
A spokesperson from MDRU said the sessions are designed to "help people identify various forms of cannabis and other drugs as well as their effects and encourage the discussion of drugs within the community."