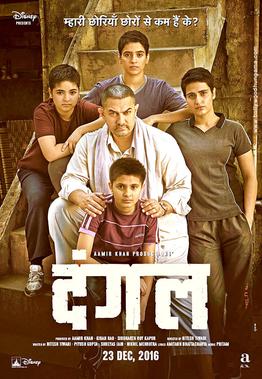 When Amir Khan announced his new movie, Dangal, it instantly sent the media world into a frenzy. A new Amir movie means a new blockbuster and a new asset for India's burgeoning cinema legacy. Dangal, which translates to wrestling competition, centres on the real life story of Mahavir Singh Phogat who trained his daughters, Geeta Phogat and Babita Kumari, to wrestle.
The film stars Aamir Khan, Sakshi Tanwar, Fatima Sana Sheikh, Sanya Malhotra, Zaira Wasim and more. Dangal perfectly captures the blood, sweat and tears that the sporting hero family put into their work and Amir Khan, as usual, delivers a stunning  performance, with many hailing his work as the hard-set yet compassionate father his best acting to date.
Integral to the story is the message of female empowerment and strength in adversity. Women in sport, let alone young Asian women in boxing, is still a topic many find difficult to grapple with (no pun intended). Many are now praising Dangal for capturing the message of equality and pushing it out for the masses. Hopefully, more young girls can be encouraged to take up sport, fitness, fighting and wrestling regardless of stigma or simply being told 'no.' As audiences, we feel for Geeta and Babita (played by Fatima Sana Sheikh and Sanya Malhotra) when they struggle with misogyny from the boys then rejoice in their triumph when Geeta wins win gold at the 2010 Commonwealth Games and Babita silver.
The music is grounded in earthy and natural elements, winding around the story effortlessly in a way that helps hone the grittiness of the tale without overpowering it. Daler Mehndi lends his voice for the inspiring title track. Some have criticised Dangal for its length, but given the lack of songs and filler, the storyline more than makes up for it.