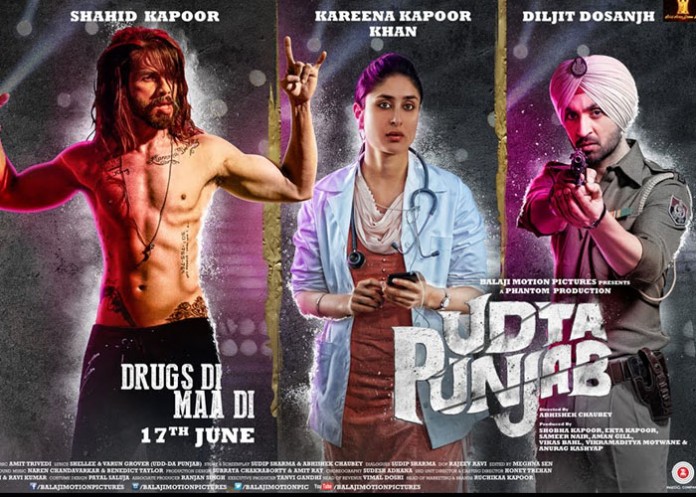 Director Abishek Chaubey's latest centres around a drug riddled Punjab and stars Shahid Kapoor, Kareena Kapoor and Alia Bhatt. Since its release on 17th July, the film earned $7,000,000 worldwide during its opening weeked, making it the 8th highest grossing Bollywood film of 2016.
However, it was only a month ago that producers were worried the film would never see the light of day. The Central Board of Film Certification (CBFC) had requested 94 cuts to be made, including expletives, mentions of Punjabi cities and any shots of drug consumption.
Given the film is very heavily drug themed with a dark tone and atmosphere, the cuts caused a huge controversy with clashes on censorship between creatives and even academics.
Producer Anurag Kashyup challenged the CBFC's order in a Mumbai court. Reportedly, the CBFC even asked the filmmakers to drop 'Punjab' from the title. Kashyup took to twitter to call Pahlaj Nihalani, the chairperson of CBCF, a "dictatorial man…operating like an oligarch."
In another tweet, Kashyup states:
"There is no film more honest than Udta Punjab. And any person or party opposing it is actually guilty of promoting drugs."
It's not the first time Kashyup has run into trouble with censorship boards. Although beloved for his unique and modern filmmaking, Kashyup's brutal and violent depictions of life in India have led to censorship conflicts in the past, with his 2001 film Paanch being banned from both theatre and home-video release unless cuts were made.
After a slew of angry tweets and garnering public support via social media, Udta Punjab finally cleared the CBFC with just one cut- that of Shahid Kapoor urinating on a crowd.
Speaking to the BBC, Kapoor said, "I must confess that I was aware that it was not going to be easy to get [the film] out there. But I didn't anticipate the amount of conflict we would have to go through."
Alia Bhatt, who plays a migrant slave in the film, had this to say: "as an adult, you're allowed to vote, you're allowed to drink, you're allowed to get married, then how can you not be allowed to view cuss words, or abusive words, or a kissing scene, or bloodshed or any of that on screen?"
After securing a victory against the CBFC, the film has gone from strength to strength, with the Times of India awarding it a 4.5 out of 5 stars. Namrata Joshi of The Hindu calls Udta Punjab "a gut-wrenching look at the frightening dystopia that is Punjab today owing to rampant drug abuse."
Given its glowing reviews, millions amassed and the debate it has sparked regarding creative freedom in Indian cinema, Udta Punjab appears to be one to watch.