 Insiders abuzz over Shah Rukh's new screen outing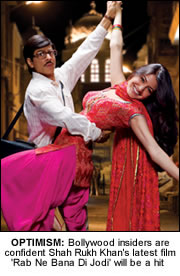 LAST Friday saw Aditya Chopra's Rab Ne Bana Di Jodi hit UK cinema screens.
After the success of Dilwale Dulhania Le Jayenge and Mohabbatein, and eight years since Chopra last directed, expectations are high. Yash Raj Films are buoyant about their latest Shah Rukh Khan vehicle, distributing over 1200 prints of the film. Avtar Panesar, Vice President of International Operations at Yash Raj Films, says, "Fans can expect a good film and SRK with a difference."
Music videos of Haule Haule and Dance Pe Chance have audiences abuzz over Khan's dual look. Yash Raj Films lenticular advertising also seems to have caught the imagination of the public. "The posters reflect the story of the film very well," Panesar said. "As the saying goes, a picture speaks a thousand words. From a marketing perspective, we'd like to believe this picture on the standee says it all."
Rab Ne Bana Di Jodi
is Shah Rukh's third outing for good friend Adi, and launches newcomer Anushka Sharma as the other half of the jodi. Bangalore model, Sharma, bagged the role after an extensive talent search to find a fresh face. Actors have always been eager to work with the production house, and for Sharma this is a dream debut. "All I can say is we treat everyone like family. Maybe it's that warmth which trickles down right from the top," said Panesar.
With post 26/11 releases either pushed back or a wash-out at the box office, receipts are down. On the effect this might have on the opening of RNBDJ, Panesar said, "
There will be some impact, which is understandable. Nothing is more precious than human lives – certainly not the Friday box office." YRF spearhead Yash Chopra adds, "We try and make a good film. Success is in the hands of the audiences and God."
Steven Baker is a UK writer who divides his time between London, Delhi, and Mumbai. Best known for his writing on the Hindi film industry, Steven is presently the Coordinater of the British Council's creative writing course in New Delhi, and writes a weekly column for Hindustan Times. He has also appeared in 20 Bollywood films.