 Producer set to work on Kareena & Akshay film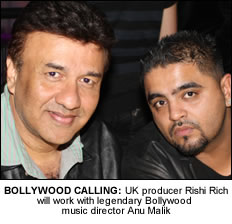 UK producer Rishi Rich and legendary Bollywood music director Anu Malik are all set to team up on a Bollywood blockbuster starring Kareena Kapoor and Akshay Kumar.
The duo will lock musical horns on the eagerly awaited '
Kambakht Ishq'.
Anu Malik has spent the last few weeks flying back and forth from Mumbai to Rishi's studio in London putting the final touches to the soundtrack for the film.
Brit music stars Veronica and up and coming singer Navin Kundra will also lend their vocals to the soundtrack.
"I've been looking to work with Rishi for a long time now" said Malik.  
"I feel this is the beginning of something very exciting and I'm looking forward to working with him on my future projects. I heard he's the best in the business and now I know he is. I can't wait for the world to hear what we've got for them." 
Rishi added it was an "honour" to work with one of Bollywood's most decorated music directors.
"It's a great honor to work with one the most highly regarded music directors in the Bollywood film industry. Anu and I are on the same page musically and we've thoroughly enjoyed working together these past few weeks. All I can say is watch this space because there's plenty more vibes to come."
The ground-breaking collaboration will add to Bollywood's increasing appreciation of the British Asian music scene. More recently Scottish duo Tigerstyle and RDB were involved in the musical arrangement for Akshay Kumar's recent hit film 'Singh is Kinng'.