 Rival sought to 'cash-in'on success of Kulfi maker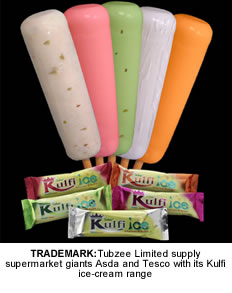 A HALIFAX-based ice cream manufacturer who supplies leading supermarkets with Kulfi ice cream has won a High Court battle against a rival company who is accused of copying its packaging.
Tubzee Limited, who supply supermarket giants Asda and Tesco with its Kulfi ice-cream range, brought the action against local rivals Safron Foods Limited following letters of complaints by a number of its customers.
Both companies manufacture and supply Asian ice cream products known as Kulfi.
The claim concerned the recently re-designed packaging of Safron Foods Limited which infringed two of Tubzee's registered trade marks, the court heard
Judge John Behrens ruled that the packaging was sufficiently similar to cause confusion on the part of consumers, who may have believed they were purchasing Tubzee products when in fact they were Safron Foods' products.
The claim was against the Company and two former Directors, Tanvir Hussain and Mudasar Mahboob.
Judge Behrens found that as well as the company being liable, the two individuals were personally liable for allowing the company to have infringed the trade marks and passed-off their products as those of Tubzee Limited.
Tubzee's lawyer, Luke Patel, said Safron "sought to cash-in" on the rising success of their rivals.
He added: "Understandably, Tubzee could not allow this to continue and were forced to take Court action to protect their long-established brand.
That action was successful in its entirety. Not only the Company, but also the two former Directors, were found to be responsible, which shows the Courts will not allow Directors to hide behind their Companies. Permission to appeal the decision to the Court of Appeal was refused. Safron Foods Limited, through their advisors, have now intimated their proposal to place the Company into liquidation, but the former Directors remain personally liable".
Safron Foods Limited were ordered to destroy all packaging and advertising material bearing Tubzee's trademark.