 Singer signs to US label ahead of album release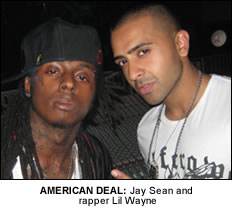 BRITISH R&B star Jay Sean is setting his sights on cracking the notoriously difficult American market after he was snapped up by a US label.
The ex-medical student will be represented stateside by Cash Money Records – the label that has made Lil Wayne one of the biggest rap stars in the world.
Bosses at the label will handle the release of Jay's album 'My Own Way' next spring.
"It's always been a dream for me to sign to an American label. And it's great to be accepted by the best in the game," Jay said.
Jay has just returned from Miami where he finalised the deal with bosses at Cash Money Records.
Billy Grant, head of Jay's management company 2Point9 said the deal was "great news for British black music".
He added: "Six years of hard work has really paid off. Jay has developed into a fantastic artist and this has been acknowledged by America's most successful record label"
Jay will attend the European MTV Awards with Lil Wayne next month while the later will also feature on a remix of Jay's forthcoming single 'Tonight.'