 Coventry man in fresh fundraising bid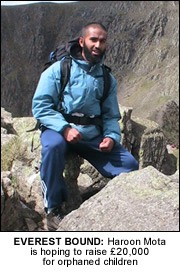 A COVENTRY Council worker who had his dream of scaling the mighty K2 Mountain for charity cruelly dashed at the last minute is now setting his sights on Mount Everest.
Haroon Mota was expected to trek to K2 Basecamp in August as part of a fundraising initiative to raise money for orphaned children worldwide.
But despite raising a phenomenal £10,000 and spending a year in training his trekking permit was rejected by authorities in Pakistan.
Haroon said the experience left him feeling "discriminated" and "deflated".
"After my K2 trekking permit was unfortunately rejected by the Pakistani authorities in August, I was denied the biggest challenge of my life; the quest to trek to K2 Basecamp in the Himalayas, in aid of orphans worldwide," Haroon told The Asian Today. 
"I had spent my final year at university, compromising study time to fundraise and train, only to have been left feeling deflated and discriminated. We watched our entire expedition group receive permits, whilst myself and another colleague from Islamic Relief were rejected for no apparent reason."
But Haroon refused to be beaten despite the setback. He is now setting his sights on bigger things and is gearing up for a gruelling two-week trek to the basecamp of Mount Everest next month.
Generous donations from friends and sponsors – ElectronicWorldTV.co.uk, MesmerEyez.com and SISTERS Magazine – have raised Haroon's current total to £13,000.
But the 22-year-old is setting his sights firmly on £20,000 and is urging Asian Today readers to help him reach his limit.
"All funds that are raised will contribute to the Islamic Relief Orphan General Fund which supports orphans worldwide with finance, clothing, food, shelter, education and medical care," he said.
"By donating with as much or as little as you can, you will make a difference to the orphan's lives. Please remember that these are children who are in desperate need of our help. Please also remind yourself that a little in this world goes a very long way in Third-World countries. Your help will improve their lives significantly. Please do a good deed, and help an orphan in need."
Haroon will leave for Kathmandu to complete the Everest Basecamp challenge on Saturday, November 22.