 Film stars join Minister to celebrate agreement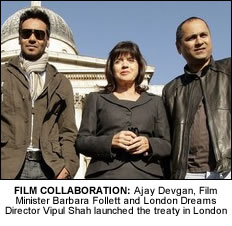 AN era of closer collaboration between Indian and UK film-makers began today as film Minister Barbara Follett launched a historic film co-production on the set of major Bollywood movie London Dreams.
Ms Follett was in Trafalgar Square to launch the treaty alongside actor Ajay Devgan and London Dreams Director Vipul Shah.
Under the historic agreement, any Indian filmmaker who wants to collaborate with a British producer under the treaty will have access to a range of benefits including tax breaks, sources of funding and practical support.  
As a direct result of the treaty, it is expected that as many as ten film projects will go into production in the next two years, providing jobs, entertainment and cultural benefits to two of the world's great cinema-going nations.

"After the United States, the British and the Indian film industries are arguably the two greatest in the world," Ms Follett said. "The range of benefits we are offering through the treaty aims to bring our industries closer together – and I am confident that Indian filmmakers will want to take up the offer.
"Any Indian filmmaker who wants to collaborate with a British producer will find it more financially worthwhile.  We can also offer a mature production infrastructure and share expertise between the two countries' film industries.  I am delighted to see some of the biggest names in Bollywood filming in the heart of London and hope to see many similar co-productions being filmed around the UK in the coming years."
There is already huge interest in Indian films in the UK – and it is growing. 
Record numbers of Bollywood films have been released in the UK over the last few years.
There were 2.6 million visits to Hindi films in the UK in 2005, and Indian films accounted for over 16% of all releases, taking £12.4m at the box office.