 'Taare Zameen Par' gets Indian nod for Oscar entry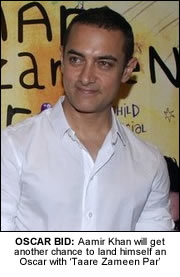 BOLLYWOOD director Aamir Khan is hoping for better slice of fortune when he returns to the Oscars next year with his directorial debut 'Taare Zameen Par'.
The box-office hit has been selected as India's official entry for the Hollywood showpiece next year.
It will be Khan's second trip to America after his 2001 production 'Lagaan'.
The actor-turned-director found himself with the hopes of a nation behind him in 2001 when the film made it to the final five in the foreign films category.
But despite eventually losing out to Bosnian entry "No Man's Land", Khan said 'Lagaan' was no failure.
"Lagaan did not fail", he said. "There were films that were better than Lagaan. The best of world cinema comes to the Oscars and, in my personal experience, I know a lot of the academy members had liked my film."
Now Khan will get to another chance to prove his worth for a coveted Oscar when he travels to Hollywood next March with 'Taare Zameen Par'.
Khan both starred in and directed the film, which tells the story of an eight-year-old boy with a learning disorder and his relationship with his school teacher.
He said he would travel to America and market the film ahead of the ceremony.
"I will try my best and make sure that the film is watched by most members of the Academy", Khan said.
"I also plan to hire a good publicist to help create awareness about the film in the American media as well as the Academy members."
He added he was sure the film would appeal to an international audience.

"I remember I had attended a function in America where the screening of the film Rang De Basanti was done. All of them loved the film, which is a clear indication that our films have been engaging the international audience. Also, I am quite sure that this time, too, the film will connect with them and I hope most of the academy members are parents and will be able to connect with my film. I know my film will make people cry. I hope to make India proud this time."