 Delhi court throws out lawsuit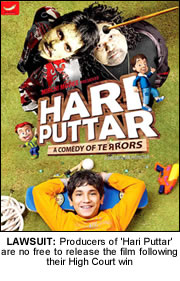 AN Indian Court has thrown out a copyright claim made by Warner Bros over the Bollywood film Hari Puttar.
The Hollywood studio, who is behind the hugely successful movie adaptation of JK Rowlings Harry Potter series, had been widely expected to win the case.
They claimed the title of 'Hari Puttar' was too close to the mighty boy wizard 'Harry Potter' and were adamant they had a legitimate case.
But a court in Delhi rejected their claims meaning the film is now free to be distributed across India.
"The case has been dismissed. The court said that Warner Bros had known the title of the film since 2005 and had delayed bringing the case to court until the last moment," lawyer Pratibha Singh was quoted by news agency AFP as saying.
The court also rejected claims the names were too similar saying readers of Harry Potters were educated enough to know Hari Puttar was different.
The verdict will come as a blow to Warner Bros and author JK Rowling who are fiercely protective over the Harry Potter name. The Bollywood film tells the story of a 10-year-old boy who moves to England with his family and becomes involved in a plan to save the world.
The film was due to be released on September 19 but was deferred to a September 26 release due to the court proceedings.