 53 dead,266 injured as terrorists strike Islamabad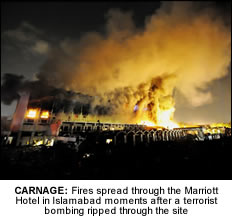 NEWLY-elected Pakistan President Asif Zardari and a number of his party's leaders should have been dining at Islamabad's Marriott hotel when a bomb ripped through the site on Saturday, it has emerged.
The startling news was revealed today by Pakistan's Interior ministry Rehman Malik who told journalists the president, prime minister and military chiefs would have been in the hotel when the suicide bomb went off.
"The national assembly speaker had arranged a dinner for the entire leadership – for the president, prime minister and armed services chiefs – at the Marriott that day," Mr Malik told reporters.
"The president and the prime minister changed the venue to the prime minister's house. The function was not held at the Marriott, thus the whole leadership was saved."
While he did not give a reason as to why the venue was changed at the last minute, confusion over his comments surfaced after hotel owner Saddrudin Hashwani, told the BBC there never was a booking for a government dinner at the Marriott hotel.
Officials confirmed 53 people lost their lives and a further 266 injured when the bomb ripped through the popular hotel in Islamabad on Saturday.
While most of the dead are made up of Pakistani's, officials confirmed the Czech ambassador to Pakistan and a number of foreign nationals had also been killed.
CCTV footage of a truck ramming into security gates outside the hotel were released to the media today. Moments after smashing into the gates a small explosion rips through the six-wheeled truck. Minutes later a larger explosion ripped through the site.
The blast left a vast crater, some 30 feet deep in front of the main building.
No-one has yet admitted carrying out the attack, but the Pakistani Taleban are thought to be the most likely perpetrators.
As news of the blast reached the Western world British Airways immediately cancelled its flights to the city.
"We have temporarily suspended our flight operations in Pakistan following Saturday's suicide attack," a BA spokesman said. "The safety of our customers, crew and aircraft is of paramount importance."
The last flight from London to Islamabad, the only destination served by the airline in Pakistan, operated yesterday.