 ICC hopeful tournament will go ahead in Pakistan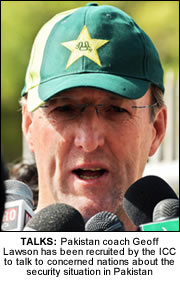 PAKISTAN coach Geoff Lawson has been recruited by the ICC to help convince cricketing nations Pakistan is safe for the Champions Trophy.
With the one-day showpiece just weeks away uncertainty remains over who will actually show for the September tournament.
Australia, New Zealand and South Africa have voiced their disapproval at the security situation in the country and have yet to confirm they will be sending a team to Pakistan next month.
Aussie Lawson has in the past tried to appease the concerns of the nations but will now get the chance to fly out for face-to-face talks courtesy of the ICC.
 "The ICC made the request about ten days ago," Mansoor Suhail, a PCB spokesman, told Cricinfo. "He has been living here and he is Australian so it is a good thing. He will go meet players and tell them what it is like here."
The trip was funded by the ICC's task force who are in Pakistan assessing the security situation.
"It is a very logical thing to do," Suhail said. "They are funding the trip and hopefully it will assuage the concerns of leading players and convince them to come here."
For the home nation, business continues as usual. Pakistan announced their 15-man team for the tournament.
Fast bowler Shoaib Akhtar returns to the squad following the suspension of his 18-month ban, while there were further recalls for Umar Gul, Shahid Afridi and Salman Butt.