 Brahmrishi Shree Kumar Swamiji presented with awards for Humanitarian work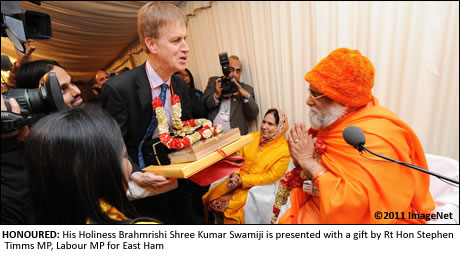 THE House of Commons played host to one of India's greatest spiritual leaders, as His Holiness Brahmrishi Shree Kumar Swamiji, was honoured by politicians, campaigners and his peers.
The private reception, which included over 100 invited dignitaries, was hosted by the Rt Hon Stephen Timms MP, Labour MP for East Ham. Special guests including Lord Tarsem King of West Bromwich and Lord Bilimoria paid tribute to His Holiness with personal messages of welcome.
His Holiness Brahmrishi Shree Kumar Swamiji has dedicated his whole life to freeing the world of suffering and misery and his vision for society is continually being delivered by his Trust – Bhagwan Shree Lakshmi Narayan Dham', one of the world's largest spiritual organisations. His efforts in improving human welfare for people of all faiths and religions have inspired millions.
During the reception, His Holiness was presented with citations and Awards from various organisations for the Humanitarian work.
These included the highly acclaimed Ambassador of Peace Award by the Universal Peace Federation, The Mahaveer Award by The Young Indian Vegetarians Society and The Humanitarian Award presented by the Asian Welfare Association.
On receiving his awards and citations His Holiness said: "This honour is not just for a single person, but for the whole world and the ancient tradition of the East. More than that, this is the honour for all the faithful believers of all the World religions such as Hinduism, Islam, Sikhism, Christianity, Buddhism, Jainism, Zorastrian.
"This historical honour is not for a single person but for all the Nations and their various cultures. This honour in fact is the honour of entire humanity. This felicitation has once more brought the greatness and humility of Great Britain before the whole World."
The event also marked the official launch of the Bhagwan Shree Lakshami Narayan Dham UK's Annual Day to be known as -"Brahmrishi Shree Kumar Swami Day" dedicated in honour of the interfaith, charity and volunteering work that His Holiness Brahmrishi Shree Kumar Swamiji embodies. On this day each year, all followers in the UK will perform selfless voluntary acts of kindness and public service.
Commenting on the event and his meeting with His Holiness, Stephen Timms MP said: "Faith organisations across the country are making a positive contribution in communities across the UK, and I welcome the opportunity this event presents to bring them together.
"I am glad to have been able to help to sponsor it. It has been a pleasure to meet with His Holiness and learn more about the valuable impact of his humanitarian work."