 Killer boasted about killing, court hears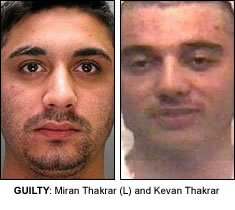 TWO brothers who executed three people at a family home and left two others in a pool of blood in a revenge attack over a drugs deal have been found guilty.
Kevan Thakrar, 21, of Lomond Way, Stevenage, and his older brother Miran Thakrar, 24, of no fixed abode, were found guilty of killing Keith Cowell, 52, his son, Matthew Cowell, 17, and friend, Tony Dulieu, 33.

Both men were also found guilty of the attempted murders of Christine Jennings, 54, and Matthew Cowell's girlfriend, Clare Evans, 23, at the house in Bishop's Stortford, Herts, last August, and of possessing a firearm.
Miran Thakrar, who fled to Cyprus after the murders, was sentenced to life in prison and told he must serve a minimum of 42 years.
His brother Kevan Thakrar will be sentenced at a later date.
The court was told the brothers had travelled to the house for a drug deal. Miran Thakrar however was out for revenge after he was sold poor quality cocaine previously by the Cowells.
On that occasion they obtained the drugs from Ian Jennings, who was also at the scene, jurors were told.
Armed with a Mac 10 sub-machinegun Thakrar first shot the family dog before he lined up Keith Cowell, Matthew Cowell and Mr Dulieu and shot them dead as his brother looked on.
The two men then attacked Christine Jennings and Matthew Cowell's girlfriend Clare Evans stabbing them repeatedly.
Ian Jennings escaped the massacre after he fled into the back garden.
The court was told Miran Thakrar fled to Cyprus and boasted to various people about the killing.
Passing sentence, Mr Justice Cooke said Miran Thakrar showed no remorse for his actions.
"This was a cold-blooded multiple murder carried out in a savage way", he told Miran Thakrar. 
"In the case of the three men, you shot them with a sub-machine gun as some form of execution because of a prior drug deal where you were dissatisfied.
"None of the three were armed and you lured them to the Cowells' residence in order to kill those responsible.
"There is not the slightest evidence of any remorse and your punishment must be severe."
The jury also found Miran Thakrar's girlfriend, Amanda Dansie, 21, of High Street, Buntingford, Hertfordshire, Yilay Tufensoy, also 21, of Nags Head Road, Enfield, north London, and the brothers' father, Atul Thakrar, 47, of Lomond Way, guilty of assisting an offender.
They were each jailed for four years.
Yilay Tufensoy was also found not guilty of another charge of assisting an offender.
Jay Thakrar, 25, was also acquitted of the same charge.