 Dance duo reveal backing from star family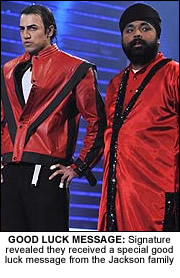 DANCE duo Signature have revealed they received a special message of luck from the Jackson family hours before the final of Britain's Got Talent.
Suleman Mirza, a 29- year-old trainee lawyer from Essex and 34-year-old Madhu Singh, from Hayes in Middlesex became an instant hit on the ITV show with their Bhangra-infused dance rendition of Michael Jackson's Billie Jean and Thriller.
Speaking to GMTV's Ben Shephard, Suleman revealed they received a special call from the Jackson family moments before they were due on stage.
"I couldn't believe it, it happened about an hour or two before the show, I got a call from the security manager saying, 'Hi, I'm here with the Jackson family – Michael's mother and the two brothers are here – I think it's Jackie and Tito, they're sitting down, they wish you all the best and they'll be voting for you'," Suleman said.
"I got a call back on Sunday, I don't think many people know this, and saying that apparently Michael's aware of our act and he's a big fan and he'll be contacting us soon. I don't know if that's quite true, but we'll see what happens."
The duo were beaten into second place by 14-year-old George Sampson in the final which was watched by over 13 million people.
They said they didn't mind coming second best to the talented young dancer because "he was such a nice kid".