 Four men jailed for total of 22 years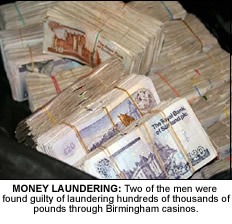 FOUR men from the West Midlands who exploited the gaming industry to launder vast amounts of money have been jailed.
Harvinder Singh Batth, 33, Sukhjinder Singh Shergill, 33, Suckjit Singh Birring, 36, and Jatinder Singh Salh, 36, were jailed for a total of 22 and a half years at Birmingham Crown Court.
The men were charged in relation to a substantial money laundering conspiracy, which also involved a £1.8 million VAT fraud following an investigation by HM Revenue & Customs officers.
High performance cars, including Bentleys, Mercedes and a Lamborghini as well as
jewellery including Cartier watches, have already been seized by officials.
Batth,
a principal player in the VAT fraud and money laundering racket, used his company Anisha Brokers to divert the proceeds of the VAT fraud. He was jailed for nine years.
Shergill was sentenced to a total of seven and a half years in prison, Birring two and a half years, and Salh to three and a half years.
A fifth man, Jasbinder Singh Bedesha, 47, will be sentenced on Friday.
 Birmingham Crown Court was told the men laundered
major sums of cash from other organised criminal gangs.
This money included the profits from a number of activities including drug trafficking, multi-million pound VAT conspiracies in the mobile phone industry, counterfeiting and credit card fraud.
the defendants would transfer large amounts of money to a bank account in Dubai, which would then be accessed by their associates. The defendants received the proceeds of crime in the UK and made equivalent amounts of criminal monies available in Dubai. The defendants then embarked upon an operation to launder those sums they had received in the UK. They did this by exploiting the gambling industry.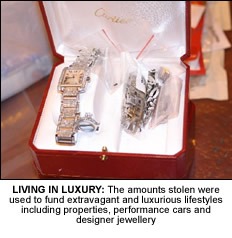 Money was placed on deposit at a casino and withdrawn a day or so later. Other sums would be gambled. Thousands of pounds would be passed over the tables in order to disguise the original source of the banknotes. Monies gambled or exchanged at the casino provided the defendants with an apparently legitimate explanation as to their source.
In raids carried out across the West Midlands by HMRC officers a total of £650,000 was seized under the Proceeds of Crime Act 2002 both from the defendants' persons and also from safety deposit boxes, a casino, a residential address and a number of vehicles. Steps are now being taken to retain the cash for the public purse. A credit card skimming machine and associated computer equipment used to forge credit cards was also seized.
Some of the defendants also diverted £1.8 million of VAT in just one month in 2005 through their dishonest trade in mobile phones through a chain of contrived transactions.
Chris Harrison, Deputy Director for HM Revenue & Customs, (HMRC) said: "The successful conclusion of this case has resulted in a number of criminals at the top of the crime ladder being sent to prison for many years. This was a highly sophisticated and complex fraud against the taxpayer, resulting in the theft of £2.5 million from the public purse – money that could be invested into vital public services. The amounts stolen were used to fund extravagant and luxurious lifestyles including properties, performance cars and designer jewellery."