 Netan Sansara – Breaking the Mould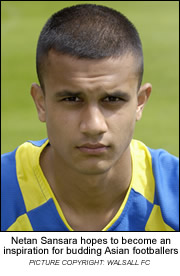 AS Beethoven was born for music and, Picasso for art step to the front Netan Sansara one of a handful of Asian professional footballers who has one goal – to become a footballing legend.
Born and bread in the West Midlands Netan is a tall left back who through his hard work, undeniable footballing talents and dedication to the game, has evolved from playing in his local Darlaston Football Club to becoming a regular on the Walsall FC team sheet as well as donning the infamous 3 Lions shirt.
Despite these achievements Netan still has a long journey ahead as he has his sights firmly set on playing in the Premiership and becoming a first full Asian England Senior International.
Netan fully understands that it would be a massive milestone not just for his own career but for football as a whole as there is a real clear lack of Asians in the game which unfortunately is not representational of the Asian passion for the game.
Take a look around any stands of the Premiership in particular at Liverpool, Aston Villa, Manchester United and Arsenal and there is a clear presence of Asians which has rapidly increased especially amid the 3rd generation of Asian. The same cannot be said however about the pitch itself.
Many cite the pressures of older generation Asians urging their children to stick to the tried and tested means of careers which include medicines and business and the clear lack of Asian role models in the game.
However Netan is very keen to become an inspiration and a role model figure to Asian youngsters dreaming of a professional contract. For Netan, "If I can do it so can you".
"It's hard", Netan admits. "That's something that I cannot deny. Professional football is tough as you have to stay focused on and off the pitch. Being Asian too it was difficult as sometimes I was the only other Asian on the team and I found myself often alienated from my other team mates that found me as a bit of a novelty figure. "Racism unfortunately still exists in the game which like in any other circumstances in life itself should not deter you from achieving your ambitions. It didn't deter me.
"I use the comments as ammunition on the field as I let the football do the talking on the pitch and earned respect that way towards the fans watching and my team mates."
Netan is keen to help further the participation of Asians in the game and he strongly believes that the only way forward for Asians to get more of a chance to get more involved at a professional level is to make sure that in order to get scouted they must take part in organised football within affiliated teams so that scouts will be able to identity them more easily.
"I think that the more we get Asians into academies and into organised leagues it will be an easier route for them to get scouted. Presently there is a clear lack of Asians within academies especially which I can speak from first hand experience as I have seen only a handful. Within the right structures I think that certainly we will see more Asians within the game as I know that the talent is there and it is only a matter of time that we will gradually see the influx of Asians within the game."
Netan also regularly visits Asian communities and helps lend advice to Asian kids that are planning a career in the game and he believes that with more professional Asian footballers like him it will be easier for more Asians to enter football.
"There certainly aren't that many role models in the game that Asian kids can identify with or emulate", Netan admits. "However I feel that I will hopefully be able to be a role model for kids and I am more than happy to visit the community and give them all the advice they need on the game and how to overcome some of the barriers that sometimes exist."
In a bid to up the participation of Asians in football the FA have helped launch a number of initiatives throughout the years which include of One Game One Community, Your Game Your Say and Football For All. Also The FA alongside County FA's up and down the country have set up a number of race equality groups which have been successful in achieving a more proactive route to help shape the game and bring more pathways from a grassroots level in particular to open the doors to all corners of the community by giving them a chance to have their say.
Recently the FA have launched the FA Vision initiative which is a series of goals that the FA hope to score within the next 4 years. Major milestones are outlined covering all areas of The FA's work from the performance of the England teams to increasing participation in the grassroots level which includes the aim to get more of the wider community involved.
With this in mind the future looks bright in terms of hopefully seeing more Asians football and the more barriers that are lifted we will see a lot more faces like Netan showing that football is for everybody who have a passion for the game and the dedication to make it within the very competitive realm of professional football.
By Sunny Sahota