 Honorary Doctorate for Akshay Kumar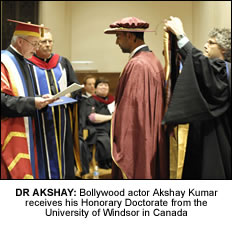 BOLLYWOOD superstar, Akshay Kumar, has been awarded an Honorary Doctorate of Law degree by the University of Windsor, Ontario, Canada for his work in the industry.
Kumar, one of Bollywood's biggest stars, was also rewarded for his philanthropic and outstanding social work.
The ceremony took place last week at the University Chapel, followed by a Reception at the Freed-Orman Conference Centre.
Speaking about his latest achievement, Akshay said: "This really is one of the most nerve-racking days of my life. My hands are shaking. I don't think even an Oscar would mean as much as this means to me. Indians believe that our success lies at the feet of our parents. It's not I who should be receiving this award, but my parents."
As well as a his phenomenal international Box Office success and being heralded the new international Indian star, Akshay's social and charitable work includes his role as Worldwide Ambassador for the Paralympics, HIV/AIDS activist and Global Ambassador for Population Solutions International (PSI) with Hollywood actress Ashley Judd. Akshay also recently joined the United Nations in their efforts to raise awareness about global human trafficking, and has helped raise funds for the Trillium Health Care Centre in Mississauga and the Vancouver Children's Hospital.

Paul J Rennick CSB, PhD, President and Vice Chancellor of the University Reverend said: "We take particular pride and pleasure in honoring men and women of achievement and altruism, whose lives manifest the values of integrity, discipline and learning that are at the heart of the University".