 Complaints were "frivolous", says court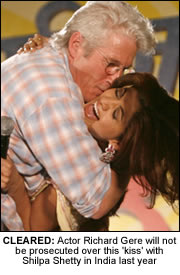 HOLLYWOOD actor Richard Gere has been cleared of all charges relating to his infamous kissing incident with Big Brother winner Shilpa Shetty.
The actor was accused of obscene behaviour after he embraced and kissed the actress as a public event last year.
India's Supreme Court dismissed the charges against him calling them "frivolous".
Gere, a regular visitor to India, had planned to return to the country later this year and had appealed to the court to dismiss the charges against him.
"Richard Gere is free to enter the country. This is the end of the matter," a two-judge bench headed by the Chief Justice of India, KG Balakrishnan, said.
The judges said the court believed that such complaints (against celebrities) were "frivolous" and filed for "cheap publicity".
The complainants "have brought a bad name to the country", the court added.
Gere is an active Aids campaigner and has visited India a number of times in the past.