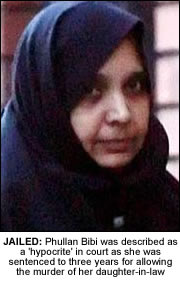 THE MOTHER-in-law of a Pakistani bride murdered by her husband was described as a "hypocrite" by a judge today as he sentenced three family members for allowing her death.
Phullan Bibi, 52, claimed she knew nothing of the systematic abuse directed towards 19-year-old Sabia Rani by her son Shazad Khan at the family home in Leeds.
Sabia was found dead in the bathroom of the home she shared with her husband and his family in May 2006,
The 19-year-old, who had arrived in Britain from Pakistan just months earlier, had been subjected to weeks of physical abuse.
Sabia suffered 10 broken ribs and bruising to more than 85 per cent of her body.
Professor Archibald Malcolm, a leading expert on bone fractures, who gave evidence during the trial, attributed the injuries to her ribs to "hard kicks, stamps or very hard punches".
Today Phullan Bibi was jailed for three years at Leeds Crown Court. Her daughters Uzma Khan, 23, and Nazia Naureen, 28, were jailed for two.
Naureen's husband Majid Hussain was given a one-year suspended sentence after being convicted of the same offence.
Shazad Khan is already serving a life sentence for killing his wife.
During the trial the accused had claimed they knew nothing of the abuse.
Bibi had told the court she treated Sabia like her own daughter – a statement slammed by Judge James Stewart who called her a "hypocrite".
He told the court Sabia died after being bludgeoned to death by Shazad in the garage of the family home.
Khan then carried her dead body through the house and up to the bathroom where he placed her in the bath before filling it with cold water.
Sentencing Bibi, Judge Stewart said: "You stood by and did nothing, knowing that your son was beating her.

"You in my judgement are most responsible for this failure to protect this helpless, naive and vulnerable girl who was not only your daughter in law but your own niece.
"You were at home with the girl day in, day out. You gave evidence to the jury that you treated her like your own daughter with love and affection," he said.
"The jury has found that you are a hypocrite, that you did the complete opposite."
Passing sentence Judge Stewart accused Uzma Khan of 'lacking common humanity' in failing to aid her young sister-in-law, and said her sister, Nazia Naureen, was fully aware of what was happening to Sabia.