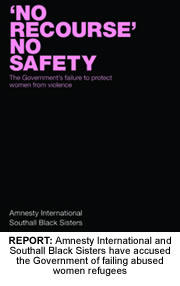 SUBJECTED to violence but unable to escape – this is the reality facing hundreds of women in the UK, according to a new report by Amnesty International UK and Southall Black Sisters published today.
 The report, entitled
No recourse, no safety – the UK Government's failure to protect women from violence
, reveals how hundreds of women are trapped in a cycle of abuse, unable to access basic levels of protection and support, simply because of their vulnerable immigration status.
Those potentially affected by this rule include international students, temporary workers, visitors, trafficked women and girls, and women who have entered the UK on valid visas as either a spouse or a long-term partner.
The report highlights cases from a number of women who escape violence but find themselves with nowhere to go because of government legislation which bans them from gaining vital access to welfare or emergency refuge accommodation.
Amnesty International UK Director, Kate Allen accused the government of "betraying" vulnerable women.
"The Government is betraying hundreds of women in the UK. It has a duty to ensure that all women under its jurisdiction have the same access to crisis or temporary accommodation and appropriate specialist services – regardless of their status", she said.

Refuges often need housing benefit to cover accommodation costs and income support to cover basic subsistence while women recover. The no recourse to public funds requirement forbids these women from getting either, leaving them with a stark choice of staying in the abuse or becoming destitute, the report said.

Southall Black Sisters co-founder, Pragna Patel added: "This is a horrific situation. It's unacceptable that the government's policies and measures to protect all women from violence do not reach this category of women.
"The government is more concerned about maintaining its tough stance on immigration than it is about ensuring that it meets international human rights standards which include acting with due diligence to protect all women from violence and abuse."
The campaign has also received celebrity backing. British actress Archie Punjabi, star of films East is East and Bend it Like Beckham, is fronting the campaign.
She said it was important the government were made aware of the effects the rule was having on women fleeing domestic violence.
"I am so glad to be associated with this very important campaign. In a vast majority of these cases the women involved are unable to speak out", she said.
"It's hard enough for a woman to escape from violence, but to then be told that you are not entitled to any state help because of a failing in the law is, in my opinion, unacceptable.
"They are left with no option but to either stay in a violent situation or risk a life dependent on others or on the streets. I feel it is imperative to speak out for them."