 'Pay up or pay the price', warn city detectives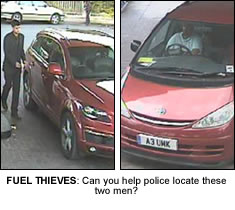 POLICE in Birmingham have issued a warning to fuel thieves – pay up or pay the price.
The warning comes amid the growing increase in fuel prices.
Detectives today released petrol station CCTV images of two men suspected of stealing fuel and are appealing for anyone with information relating to these, or any other cases, to come forward. The theft of fuel, more commonly known as 'bilking,' often involves the use of stolen or false number plates.
The first incident took place at Texaco, Alcester Road, Moseley on 29 June and the second incident took place at Shell, Stockfield Road, Acocks Green on 29 June.

Detective Inspector Tom Chisholm, from Belgrave Road police station, said: "We are aware that criminals will steal number plates to try and hide the true identity of the car. We have Automated Number Plate Recognition (ANPR) technology which will alert officers to cars using stolen plates and will be used at petrol stations to catch thieves.

"We have taken the step of releasing images of suspected fuel thieves to warn them, and any other potential thieves, that CCTV images will be used to catch them. We take the theft of fuel very seriously, regardless of the price, and would like to remind motorists that they have two choices, pay for fuel or pay the price."

Anyone who has information about petrol thieves, or the people handling stolen number plates, is asked to contact Belgrave Road police station on 0845 113 5000.