 Tendulkar declines lead role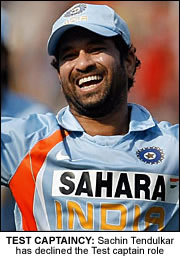 INDIAN selectors will continue with their search for a Test captain after Sachin Tendulkar reportedly declined the position.
The 34-year-old fan-favourite cited personal reasons for his decision, telling an Indian news channel, "I don't feel right about it at the moment."
Selectors are due to announce Rahul Dravid's successor in two-days time and may be forced to go with current one-day and Twenty20 captain Mahendra Singh Dhoni.
Wicketkeeper Dhoni was given the captain's role after Rahul Dravid stepped down after the World Cup.
But figures connected to Indian cricket questioned how Dhoni would cope leading the Indian team on all fronts.
Former Indian coach Greg Chappell said Dhoni was too inexperienced.
"He [Dhoni] is doing his apprenticeship in the limited-over forms of the game," Chappell told the news channel Times Now.
"Probably another 12 months or more I think before he is perhaps ready for all three of them. A tour of Australia behind him will finish him off nicely as a cricketer and as a potential leader."
And Ravi Shastri, who managed India in Bangladesh earlier this year, said the pressure would be too much for Dhoni.
"It will put him under a lot of pressure. In future he may do it but not at this moment," he told PTI. "He has a lot of talent but I think he is not ready for this responsibility now."
"There is no need to rush things to get a coach. We need to pick the ideal person. We just can't take anybody and make him the coach. And the team is winning, so why the tension? We'll wait for the right time and the right man for the job."
India gear up for their second ODI against Pakistan in Mohali on Thursday having taken a 1-0 lead in a 5-wicket win in Guwahati yesterday.