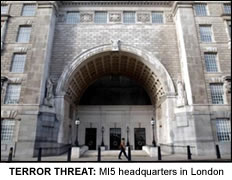 MUSLIM group The Ramadhan Foundation has accused the head of the MI5 of using 'inflammatory' comments after he said more than 2,000 people living in Britain were a terror threat to the country.
The comments by Jonathan Evans have been carried by all leading newspapers and come a day before new anti-terror legislation is announced in the Queen's Speech.
He said the overall number of people identified by MI5 as posing a direct terror threat had risen – from 1,600 last November to about 2,000 now.
And he warned that number could be even higher. He also said Al Qaeda were grooming children to carry out terror attacks on British soil.
He said: "It is important that we recognise an uncomfortable truth: terrorist attacks we have seen against the UK are not simply random attacks by disparate and fragmented groups.
"The majority … have taken place because al Qaeda has a clear determination to mount terrorist attacks against the United Kingdom. Al Qaeda is conducting a deliberate campaign against us. This campaign is dynamic and since last year we have seen it evolve even further. I do not think that this problem has yet reached its peak.
"As I speak, terrorists are methodically and intentionally targeting young people and children in this country.
"They are radicalising, indoctrinating and grooming [them] to carry out acts of terrorism. "This year, we have seen individuals as young as 15 and 16 implicated in terrorist-related activity. We are rightly concerned to protect children from exploitation in other areas. We need to do the same in relation to violent extremism."
He also warned against an "indiscriminate response" that may drive young Muslims into the arms of terrorists.
But Mohammed Shafiq, spokesman for the Manchester-based The Ramadhan Foundation expressed concern over Mr Evan's statements.
"The Ramadhan Foundation is concerned that Jonathan Evans in his speech has failed to accept that 2000 people out of 1.6 million is a very small problem, this sort of language is inflammatory and we urge all those involved to speak responsibly," he said.
"Having said this there is a real and present threat to the nation from terrorism, only together can we defeat it.  Terrorism is evil and anyone who is involved must be engaged and convinced of why there path is wrong and bring them back to the mainstream.
"The Ramadhan Foundation is clear of the challenges on the Muslim community in relation to terrorism, we have seen a sea change in the past few years but we still have a long way to go.

"We are ready to talk to the Police and security Services about how we should move forward, but we have to be honest about why this threat has appeared, mainly foreign policy.  Only then will we be able to defeat terrorism."