 Warren has to say I'm ready, says Khan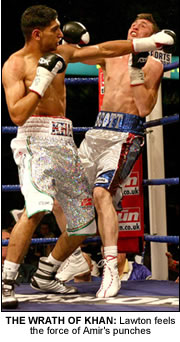 AMIR Khan has laid down the gautlet with promoter Frank Warren claiming he is ready for a title shot after his demolition of Stoke's Scott Lawton at the Nottingham Arena on Saturday.
The young boxer was keen to avoid a repeat of his last performance against Willie Limond when he lack of defensive shots brought the Olympic silver medalist crashing to the canvas before he clawed his way back to an unconvincing win.
His performance against Lawton in front of a packed Nottingham Arena would have pleased his fans, and the man himself now insists he is ready for a title shot.
"This was my best performance and it will take me to the next step up", a jubilant Khan said.  
"I was up against a good guy and I proved to a lot of people that I could come back from my last fight and be stronger.
"It showed I have learned from the mistakes of my last fight and I'm more confident.
"I want to go for the world title fights. I'll have three or four fights and I'll be ready for the world title."
But his confidence is not shared by promoter Frank Warren who played down Amir's shot at a major title before he even got in the ring on Saturday.
"Making a world title fight for Amir would be easy but when you fight for a world title you have got to be able to win it and defend it, and there is no doubt that Amir needs more experience," Warren said.
"Some people have said we should be moving him more quickly but we are still moving him quicker than most fighters. Nigel Benn was 24 years old when he won the Commonwealth title.
"Maybe in five fights Amir will be ready and when that time comes we will sit down with Amir and his trainer Oliver Harrison and talk about where to go from there."
Khan is expected to return to the ring against Luton's former British champion Graham Earl on December 8 in Bolton.
And with Khan celebrating his 21st birthday on the night, he is hoping Warren's only birthday present is a shot at a major title.