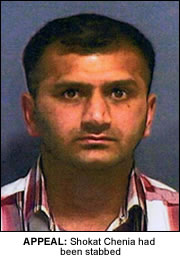 POLICE are appealing for information after the body of a Leicester man was found in a burning car.
The body of Shokat Chenia, 45, was discovered by firefighters in the burning silver Mercedes in Nottingham.
Supt Simon Nickless, who is leading the inquiry, said he was keen to speak to anyone who could shed some light on why Mr Chenia was in Nottingham.
"It is important for myself and my team to understand Shokat's movements between Wednesday 3 October and Thursday 4 October", he said.
"In particular where was he during that time? Where had the vehicle been? And we are also extremely interested to hear from anyone who knows why Shokat was in the Nottingham area at this time, and any connections he may have with the area.
"We are also keen to hear from anyone else who may have witnessed something out of the ordinary during the early hours of Thursday morning, or anyone with information."
Nottinghamshire Police have been liaising with Leicestershire Police to establish any links between the two cities.
Further forensic tests are being carried out on the recovered Mercedes and enquiries are continuing to locate where the vehicle had been in the run up to the car being left in Wollaton.
Anyone with any information is asked to contact the incident room on 0115 844 5017, or Crimestoppers on 0800 555 111. All calls will be treated in confidence.