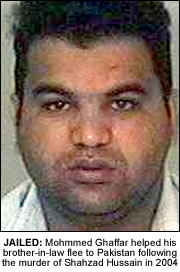 A MAN who helped his killer brother-in-law escape to Pakistan after the murder of a Leeds man has been sentenced to 12 months.
35-year-old Mohammed Ghaffar was told by Judge James Stewart QC his actions had sunk him to "the level of the gutter".
Ghaffar, a taxi driver who had no previous convictions, helped his brother-in-law, Abid Ashiq Hussain, escape to Pakistan following the murder of 21-year-old Shahzad Hussain in 2004.
Leeds Crown Court was told Ghaffar drove Hussain to Manchester Airport where he watched as his brother-in-law fled the country.
Hussain was eventually extradited back to the UK where he was jailed earlier this year along with three other men to a total of 88 years for the murder.
Sentencing him at Leeds Crown Court yesterday Judge James Stewart QC said: "Whether he was your brother-in-law or there were conflicts in the family matters not. Those who assist murderers to escape justice go to prison, the sooner those attempting to do so know it the better."
"Abid Ashiq Hussain was the organiser of the murder of a young married man with a child and when his wife was eight months pregnant," the judge added.
"The murder was probably because of gang rivalry and drug dealing, words that we hear far too often these days
."You were a man of good character, highly respected in your community, the sole breadwinner for your young family. You are married with four children. I have read a letter from your wife which is touching. You own your own home on which you have a mortgage.
"You put all this at risk by sinking to the level of the gutter."
The judge added that only Ghaffar's good character had saved him from a harsher sentence.