 Bollywood star out on temporary bail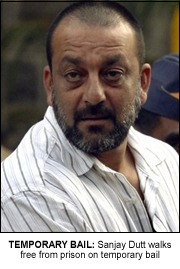 BOLLYWOOD star Sanjay Dutt walked free from prison this morning just weeks after he was sentenced for six years for buying weapons used in the 1993 Mumbai bombings.
He was freed from the high security prison in the western city of Pune on temporary bail.
Hundreds of fans had gathered outside the prison to greet the shaven-headed star. He waived to fans and shook hands with policemen as he emerged from the prison.
He flew to his home in Mumbai to be with his family.
But his freedom could be short lived. His release was only sanctioned by the court after it emerged the actor had not received a copy of the judgement passed by the special anti-terror court in Mumbai.
The judge said as soon as the actor received a copy of the Mumbai court order, he would have to surrender again and he would be sent back to jail.
Only after that could the actor file an appeal for bail and the matter would be considered on merit, the judge added.
The 48-year-old is the most high-profile name out of the 100 so far convicted in the blasts which killed 257 people.
He was cleared of conspiracy, but found guilty of illegally possessing a rifle and a pistol.