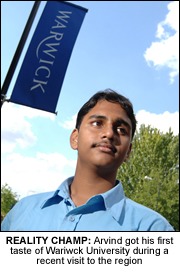 A TALENTED Indian student has scooped a four-year scholarship to study engineering at the University of Warwick after beating thousands of hopefuls in a reality television programme.
18-year-old Arvind Aradhya from Bangalore is the first winner of Scholar Hunt, a UK programme which ran on Indian news channel NDTV. The programme is also currently shown on Sky TV.
The youngster beat 14,000 other hopefuls to the top spot, after an online general knowledge quiz, engineering exams, a televised interview, a TV quiz and practical 'scrapheap challenge'.
Speaking about his success, Arvind said: "I feel very privileged to have won.  Several of my friends also entered, but they fell by the wayside. This gives me the opportunity to study abroad, as well as attend such a well-respected institution.  I never considered Warwick before as I could not have afforded this."

Arvind will receive a full scholarship for his four years of study.  This will cover living and accommodation expenses as well as his course fees. The scholarship will total £80,000.
Richard Fern, spokesman for Warwick University said: "Maintaining standards was our first priority.  Arvind's abilities far exceed our normal entry qualifications.  "Warwick only takes the brightest and the best – Arvind is certainly both of these.

"Scholar Hunt was more 'Academic Apprentice' than Big Brother. We maintained control throughout the programme – it was essentially a televised recruitment process.  The exams were particularly tough with our Professors setting fiendishly difficult problems that even they struggled to answer."

Warwick is one of four British Universities which maintains full-time representatives in India. 
Several of its alumni are now leaders of Indian commerce and industry.